Specialist Single Story Extension Builders in Liverpool
In an attempt to make their single-story house look beautiful, homeowners in Liverpool may decide to paint the exteriors and then hire an interior decoration service. But wouldn't it be great if you could add more space as well, perhaps for an extra room? It will not only make the house look beautiful but also increase its value considerably. You can use the extra room as a study room, a spare bedroom or even have your private gym. Our company is dedicated to providing such customised solutions when it comes to extending single story houses and extending flat roofs.
Innovative Designs
We are aware of the extension ideas that you may have in mind. However, we always consult with our clients to understand the amount of space they can afford for us to work with. We have had the experience to design an entire story, and we have also worked on projects where only a part of the roof was allowed to extend. The range of work we have done over the years in Liverpool has enriched our experience.
But where designing a single-story house is concerned, we have some of the best designers and engineers in the business. You must be thinking that it will cost a fortune, but before you look into your wallet, we want you to consult with us. Talk to us about your needs, and we will try our best to match your unique specifications and your budget. Once you confirm, we will take the measurements of your house and chalk out a plan to extend it. We will continuously be in touch with you so that you know what's going on. After we finish preparing the blueprint, we will confirm it from your end.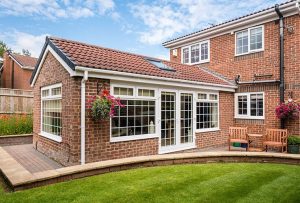 Flat Roof Extensions
Traditional roofs have always angled down steeply. With flat roof extensions, you not only get a new roof, but the design of the roof allows you to get additional space in your house. We will look into the design of the house and make this project possible. Our quality workmanship and experienced team plan and develop flat extensions quickly and efficiently.
We have been fortunate to have a vast customer base that is completely satisfied with our service. This has happened thanks to our unmatched experience in this business, and we care about the project before thinking of making a profit. You can discuss your Liverpool single story extension plans with us, and we are sure that we will have a course of action ready in a few days.