Specialists in Liverpool Building & House Extensions
We are a team of top-not house extension builders in Liverpool. Our house extension and conversion specialists have years of experience in transforming people's properties. Whether you want some extra space with a loft extension or you are looking for a specific house extension project, we are the team that you can rely on since we are the best at what we do. Here is why you need to call us for all your general building extensions in Liverpool.
With our growing reputation, we are the preferred home extension, loft, and garage conversion specialist in the Liverpool. Our reputation in the community says it all. We are proud to be the #1 home extension specialist and the go-to service provider for all home and loft extension work in the area.
Today, homeowners are choosing extensions to add space and value to their homes. Our team offers a variety of adjustable extensions to your property. These extensions are added to the rear or side of your existing building and are designed one or two storeys high. Although there are many home extension options to choose from, the right option can add space and value to your property. In case you are not sure how you should extend your existing property, you should talk to one of our specialised technicians to get some advice. Our team has extensive experience in dealing with a wide variety of home extension projects in Liverpool, Merseyside. We will recommend the best option to suit your current and future needs and the budget.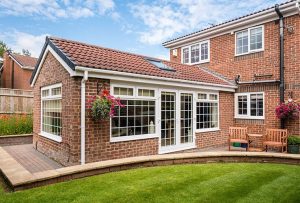 Adding a storey on to your garage is a great way to increase the space and value of your property in a cost-effective manner. Most people don't realise the benefits of this option. You may need the services of a structural engineer or surveyor to check if the foundation of the garage can bear the additional load of another storey. But it isn't an issue with most garages. A home extension project doesn't have to be an expensive undertaking when you choose the right service provider in town.
Our team has a lot of experience and many happy customers in Liverpool. We are prepared to go that extra mile to satisfy the customer at all times. We offer high-quality workmanship and service to all our customers in the area. That is why you need to call us for all your home extension work in the area.
Extension Services