If you plan to turn your garage into an extra living space, garage conversions are the best option for you. Garage conversions help increase the livable space in your home. Garage-to-gym, garage-to-kids' playroom, garage-to-studio, garage-to-guest room, garage-to-office, and garage-to-entertainment room are some of the most popular garage conversions out there. You can raise the value of your property in Liverpool by adding square footage and liveable comfort with a quality garage conversion. You need a reputable and experienced garage conversion service in the area to achieve this goal. Here is why you need to choose us for all your garage conversion needs.
Our customers in Liverpool may have many reasons for converting the garage in their home into a liveable space. All of these reasons will add value to the property. We are a top-notch garage conversion service operating in the area. Our experienced team can convert the garage on your property into any type of room including living rooms, kitchens, utility rooms, bathrooms, gyms, bedrooms, wet rooms, and offices. Besides the standard types of garage conversions, our team will convert your garage space into a unique space such as an art studio, playroom, yoga room, soundproof music room, and the list goes on. Whatever your goal, we have the necessary expertise to make your dream a reality. Call our expert team today for all your garage conversion needs in the area.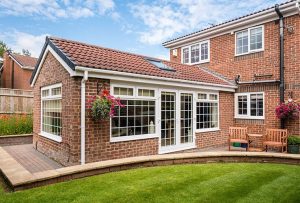 We offer a high-class and reliable garage conversion service at an affordable cost. Our highly specialised garage conversion team undertakes all aspects of garage conversions and repairs. We do everything on your behalf. You only need to sit back and relax until we convert your unusable garage into your dream space. Our expert team will remove the garage door and build external walls that match up to your existing stone or brickwork. Our dedicated team guarantees the installation of windows and doors for your conversion. They will match doors/windows to the existing windows and doors in your home. That is why you need to call our professional garage conversion service today for all your garage conversion needs.
We are a well-reputed, experienced, and dedicated team of garage conversion experts in Liverpool. We have many years of experience in the industry. There are dozens of happy customers who are highly satisfied with what we have done for them. Our team provides high-quality workmanship and services to all customers in the area.