Specialist Basement Conversion Builders in Liverpool
Basement conversions are a popular way to create extra living or entertainment space in Liverpool where outdoor space is limited. The first type of basement conversion is turning your existing cellar into usable living space which is more cost-effective than the second type which is to excavate land for a new basement which will be more expensive as it requires significant structural work. Let us help you discover a new dimension below your home and transform it into a tailor-made living space that meets your personal needs.
We are a reputable design and build conversion company in Liverpool specialising in the design and construction of basement conversions and creating exceptional basement sub-structures. We pride ourselves on our years of experience in the conversion industry and our ability to combine our professional expertise in construction and bespoke cellars with the ideas of our clients to create a perfect solution. Our projects are managed and delivered by an expert team of professional project managers, architectural designers, design consultants, structural engineers, quantity surveyors, and professional builders.
With our consistent quality workmanship and excellent service, we have managed to accumulate a long list of very happy customers who are highly satisfied with their new basement conversions. Designing the perfect basement conversion is extremely important for several reasons – to ensure that the new space forms a natural part of your existing home; that it does not feel enclosed and claustrophobic; and that it is flooded with light. A well-lit basement conversion with access to the back garden will add a lot more value to your home than a dingy space with low headroom. We have the experience and skills necessary to provide you with a beautiful, cost-effective basement solution designed to fit your personal needs.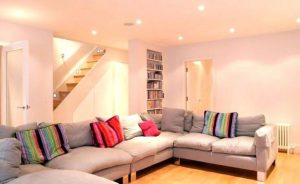 Basement Conversion Tips
1. For a cohesive look, the doors and windows can be matched to the existing ones in your home or in contrast to match the unique architecture of the basement design.
2. The interior layout of your new basement space is an important part of the design stage. Whether you plan to have an open-plan layout or create smaller rooms will depend on your personal needs as well as the structure of the building and the available daylight at each end of the basement.
3. Our expert design team can help you pick the details such as skirting, moulding, flooring, doors, and windows to form a cohesive whole and ensure that the new space feels as though it is part of the rest of the home.
4. Ceiling height is important but bear in mind that increasing the ceiling height may involve reducing the floor level which will be treated as an extension that needs planning and permission.
5. Lighting is extremely important as a basement is naturally darker than the rest of your home. We use the best type of lighting with daylight-mimicking lightbulbs to ensure that potentially dark corners are illuminated as well as the main spaces. Our design consultants will advise you on how to make the most of the natural daylight available, especially for a north-facing room.
If you are thinking of converting your existing cellar into extra living space, why not give our professionals in Liverpool a call and we will give you a free estimate on what the whole project will involve.